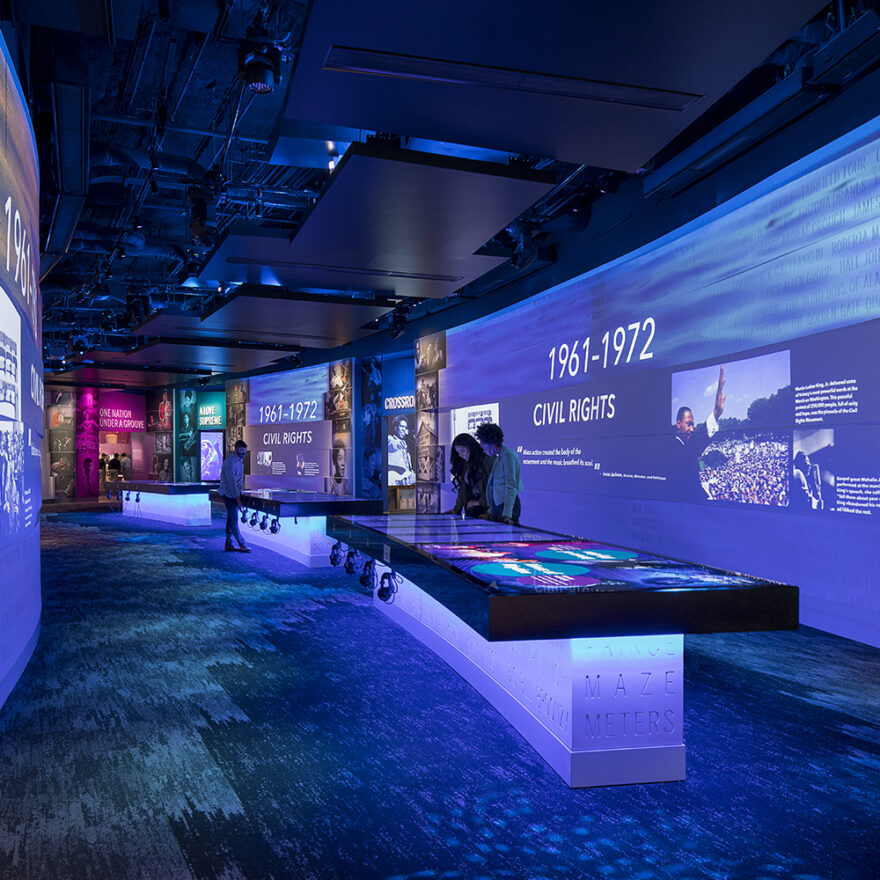 August 2, 2022
The NMAAM: Education and Immersion Through Music
The National Museum of African American Music (NMAAM) honors and celebrates the history and sounds of America's rich music traditions rooted in the African American experience. We were proud to collaborate with the museum team to create an immersive experience where visitors learn through reading, hearing, feeling, dancing, singing, creating, and becoming a part of the story. At NMAAM, visitors can find a musical style that speaks to them — and speak back.
"One Nation Under A Groove" is a celebration of R&B. Here, guests can create their own musical hit by mixing and arranging tracks. "The Message" traces the evolution of hip-hop and rap and challenges visitors to test their rap skills as an MC in a rap duel using popular beats as backing tracks. Graffiti installations fashioned by local Nashville artist Troy Duff immerse visitors in the evolving and visceral look of hip-hop — from the grit of its Bronx roots to the bling and sparkle associated with Hip-Hop Nation. An interactive dance experience bridges the space between "One Nation Under A Groove" and "The Message," where visitors can get up and move along with hip-hop and R&B hits.
In "Crossroads," visitors can learn about universal themes and stories told through the Blues. Experiences encourage visitors to try their skills at creating a blues song by weaving together different elements inspired by classic blues tales of woe. Those more interested in creating that iconic blues sound can learn how to play on the one-string diddley bow. Vibrant graphics and material choices transport visitors along the path of the Great Migration – from the juke joints of the South to the northern cities where many African Americans settled and established strong communities, despite Jim Crow legacies of segregation.
At NMAAM, visitors not only learn about the roots of African American music, they experience the emotional connection that drives home an important truth: American Music is African American Music. We were honored to work on a museum that expanded our own understanding, as a design firm, of various perspectives and expressions of identity.